Stock screeners are a useful weapon in the trader and investor's arsenal. Top stock screeners allow users to filter and scan for the best trades and investments according to specific criteria.
Not using a stock scanner can cost you a lot of time and money by missing out on ideas. However, with so much choice it can be difficult to find the right scanner for you.
This article looks at the best stock screeners and offers several free trials.
4 best stock screeners
Best overall UK stock screener
SharePad is the screener I use on a daily basis. This is because it offers everything I need and the ability to create custom screens.
SharePad allows its users to filter for both fundamental and technical factors. You can replicate screens of trading greats and also build your own.
I have built my own filters that are available for you to use in the filter library.

Here is one which I use to find uptrending small cap stocks that are gaining momentum.
By running the filter, I can click the space bar to run through stocks and see the stock price chart appear on the right of the browser. This means I can cover lots of stocks quickly and find what I am looking for effectively.

Trading and investing is a rock turning business and SharePad saves me time doing much of the heavy legwork for me.
As well as being a stock screener, SharePad has everything in one place such as financials and other ratios.
This is why I rely on the software to find trading ideas and potential investments and have done on a daily basis since 2017.
It is the product that gives me an advantage in the market and saves me both time and money.
You can take a risk-free 30 day trial and a free month on me with the link below.
Investing.com offers a free stock screener that allows you to search for popular ratios.
It doesn't allow you to create your own custom filters but Investing.com's stock screener is an excellent start for those who want a free product.
However, once you start taking trading and/or investing seriously, the free products and their limitations will end up costing you more than the price of a subscription to a proper screener.
But for those who are new to the stock market and investing there is nothing to lose by trying this out. I used Investing.com's screener before moving to SharePad.
Best stock screener for beginners
Stockopedia owns a proprietary screen called StockRanks.
This grades stocks based on quality, value, and momentum factors and computes a score from 0 to 100.
Stockopedia's data shows that higher ranking shares have resulted in higher returns and so it works if you are looking to buy a basket of shares with some risk management in place.

However, the StockRanks factor in the information today and are unable to spot nearby turning points in a stock. Therefore, it's possible that a stock market winner will be poorly ranked until it has already risen by a high amount.
You can also filter for other screens that have been pre-selected.
Building custom screens is possible too although these lack the versatility that SharePad offers.
Overall, Stockopedia is a good screen for complete beginners in the stock market who may wish to have their hand held when buying individual stocks with the StockRank system.
Best free stock screener for US stocks
FinViz is one of the many US stock scanners that focuses on US stocks.
Here is a picture of the screener. It comes with adverts – although quite why an over 50s plan is being advertised to me I have no idea.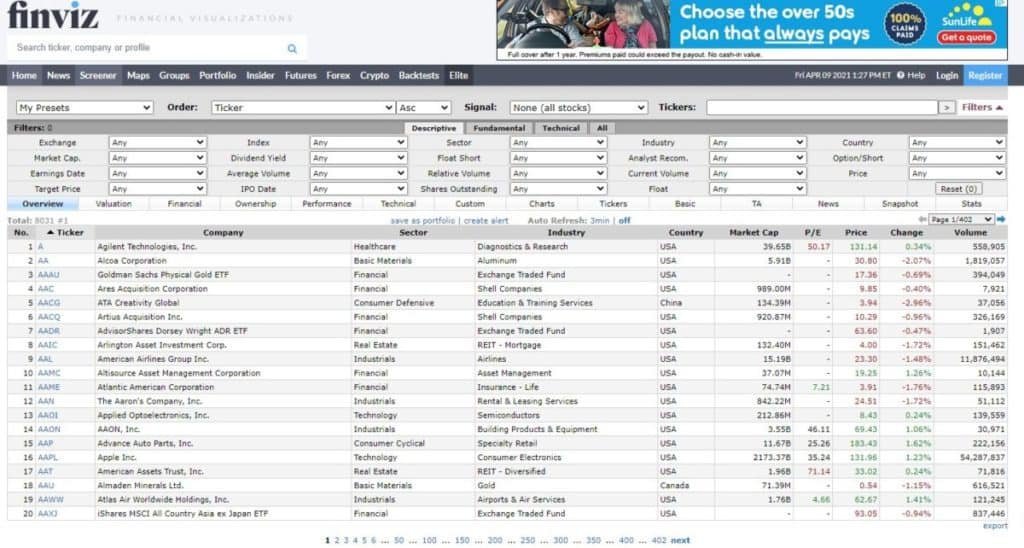 Penny stocks are popular in the US and with FinViz you can screen for the stock's short sold percentage with "float short".
FinViz covers the NYSE, NASDAQ, and AMEX exchanges, making it the best penny stock screener to day trade US stocks too.
Stock screener buyer's guide
Picking your stock screener is an important decision.
Your ability to hunt down and track the next trade or stock market winner will be dependent on the capability of your stock screener.
What to look for in a stock screener
When buying a stock screen you need to ensure that all stocks in that market are available for screening.
For example, there are nearly 2,000 stocks listed on the London Stock Exchange. A screener that only offers 1,000 stocks means that half of the exchange is missing!
You also need to know what you want to screen for and why.
A stock screener can have an almost limitless amount of potential screening combinations but unless you know what you want to find this potential is left wanting.
Stock screener limitations
You should be careful of the limitations of stock screeners. Even though many stock screeners offer almost infinite options, many of these options are quantitative only.
Companies are more than just numbers on a screen or figures on a spreadsheet.
Screeners won't show factors such as:
A director's dodgy past
Potential lawsuits lurking in the shadows
Discontent amongst employees and a pending strike action
Customer satisfaction levels dangerously low
A change in the quality of product and service offered by the company
Stock screeners are a useful tool for both traders and investors but they can't do everything. You must follow this up with your own research.
Which stock screener should I buy?
The stock screener you should choose depends on how serious you take your business.
For those getting started with a small account, Investing.com's free scanner is a great start. If your total pot is £500 then a stock screener will only work against your annual performance. However, for those with deeper pockets and those who want to gain an advantage in the stock market, then I recommend a risk-free trial of SharePad.