My Research Tree review will show you how you can use it to improve your returns by accessing high quality research coverage on stocks you're interested in and stocks you own.
Much of this equity coverage does come with a structural bias because many of the notes are written by the House Broker of a quoted company. However it can be used in order to quickly understand a business, get a handle of its key drivers, weigh up the risks and opportunity of an investment, build up a picture of the upcoming catalysts, and further your own learning.
Furthermore, research from the House Broker is often the best place to get an idea of what the company expectations are beyond just the year ahead.
This article will walk you through how to use the product and comes with an exclusive offer.
Want the offer now? Skip to the end of the article.
Research Tree review: What it does
Research Tree offers both private and institutional investors access to the latest UK investment research, CEO video interviews, and upcoming investor events.
This detailed research comes from over 35 brokers and over 30 Research Houses. Events and Roadshows are aggregated from 20 organisers and rising fast.
Finally, it offers video interviews with company management from 10 different providers.
Many research providers in a single platform
Research Tree offers access to over 65 brokers and research providers.
You don't need to check (and pay for) various platforms because Research Tree offers access to its members.
This saves time and energy tracking down research because you can type in the stock on Research Tree and all research notes and mentions will appear instantly.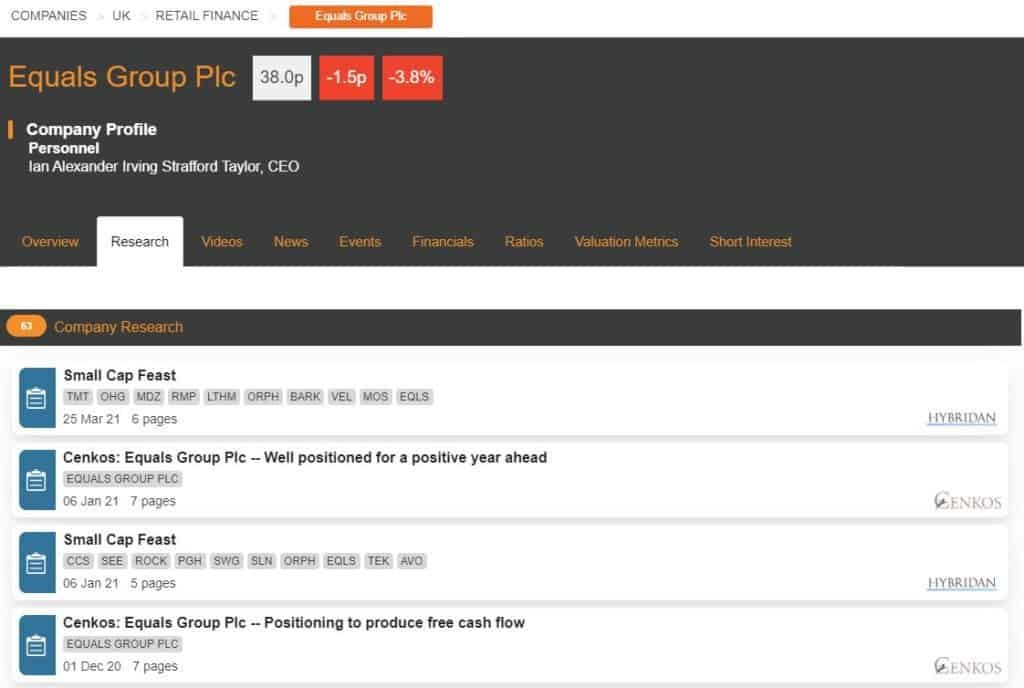 Gain access to various analyst views on companies
Professional analysts are paid to research stocks and produce detailed write-ups of stocks and the underlying business.
This makes it easy to quickly understand the company and the inherent risks and opportunities it faces.
You should never rely on anyone's research because you should be responsible for your own financial decisions, and analysts are not always right.
Furthermore, an analyst can be employed by a company that is paid to produce research notes. You never bite the hand that feeds – so you should always be aware that sell-side research comes with a bias.
Even if the analyst isn't paid to produce research, often they can become mouthpieces for management.
However, research notes are an excellent tool of getting up to speed on a company and helping you further your own research.
Media appearances and PR videos are tracked
Companies often do media appearances and PR videos such as podcasts and YouTube interviews.
Many of these are available on Research Tree so you don't have to go searching for various interviews. You won't miss any media appearances as you can click "Videos" and they will show here.
Email alerts when new updates appear
Another benefit of Research Tree is that you can create multiple watchlists of stocks and receive email alerts when there is new information.
You can create your own Watchlist and add companies. All research, videos, investor events, and RNS announcements will appear in the Dashboard.
Research Tree: My verdict
I use Research Tree to quickly understand a business by reading an in-depth note. So long as you are aware of potential biases, these research notes save me time as I can get an overview of the business as well as how and where it makes its money.
Checking for media and upcoming events means I can get to see or hear the management and how they respond to questions.
Research Tree has research notes that are often unavailable or hard to find for private investors, all held in one platform.
It offers serious investors an advantage in the market.
Claim your Research Tree offer
I have arranged an exclusive offer for my readers, allowing you to try out Research Tree with a 7 day free trial and 20% off for remaining customers.
Annual All Research subscribers get 22% off (£270 per year to £210 per year)
Monthly All Research subscribers get 20% off from £25 per month to £20 per month
Frequently asked questions (FAQs)
You have questions? I'll do my best to answer them.
What is Research Tree used for?
Research Tree is used by private investors to gain an informational edge.
Research notes from over 65 providers are available on its platform which can be used to see broker forecasts and analyst opinions of companies.
Is Research Tree suitable for me?
Do you want to see what professional analysts are saying about your companies? Do you want to have access to detailed information and forecast financials on companies all under one roof? If so – then yes!
If you're a trader who is only interested in the share price and not the underlying business, then Research Tree may not be for you. Try SharePad instead.
Is there a free Research Tree trial available?
Yes. All users can have an exclusive 7 day trial using my code shifting-shares.
You can claim your free trial here.
How much is Research Tree?
Annual All Research subscribers get 22% off (£270 per year to £210 per year)
Monthly All Research subscribers get 20% off from £25 per month to £20 per month