Stockbrokers and online stockbrokers offer a share dealing service where we buy and sell shares through their company. They connect us to the stock market and by offering this service they take a commission for doing so. This is how they make their money, and so it is in their interest for us to trade as much as possible. In this article, we will learn about the different types of stockbroker to give you the information you need. There is also a list of stockbrokers you can click to go straight to my review.
Choosing Your Stockbroker
There are a lot of brokerages in the UK. Many of these offer great services but sadly many of them are not as slick as they seem. In this article, there will be a review of each one.
Many online stockbrokers send out alerts on hot stocks and events because they want us to trade. They don't care if we have an edge or even make money. If we trade – they make money.
If you have ever seen the film "The Wolf of Wall Street" then you will remember that the stockbrokers at Stratton Oakmont wanted their clients to buy as much as possible, regardless of the quality of the company. In the UK, being pitched stocks over the phone will only happen if you open an advisory account – most accounts are execution only (commonly abbreviated as XO).
Whilst I have never come across any stockbrokers as sleazy as this, I have been pitched complete junk stocks in the hope that I will place them a trade and earn them some money. There are genuine stockbrokers out there who build long lasting relationships with clients – just be careful because not all stockbrokers are focused on your own success.
Which Stockbroker Should I Choose?
There is no right or wrong answer to this. Many people – including myself – use several stockbrokers for different purposes. It's important to understand what you want to get out of your stockbroker. First, we need to understand the different types of stockbrokers available.
Execution Only (XO) Stockbrokers
Spread Bet Providers
Full Service & Advisory Stockbrokers
Execution Only (XO) Stockbrokers
Execution Only stockbrokers, commonly referred to as XO stockbrokers, are brokers that will only act as a service for your wishes to deal in the market. They will only execute orders, and not provide any advisory capacity.

In my opinion, everyone should be responsible for their own decisions, as stockbrokers have an incentive for us to trade. They earn a commission on each trade, and so the more we trade the more money stockbrokers make.
Spread Bet Providers
Spread betting is a financial product that mimics the underlying asset without actually owning it. For example, we can place a 'bet' on a stock going up or down. However, spread betting is a a form of leverage – that means both gains and losses are magnified. I would not recommend beginners to open a spread betting account as most people lose their money. Unless you have traded consistently profitably for more than a year, you should not even consider opening a spread bet account. Why would you open a leveraged account, where your profits and losses are magnified, if you are not even making net gains?
Due to new European Securities and Markets Authority (ESMA) regulation that came into force in 2018, anyone who is a retail client can no longer lose more than the amount of money deposited into the account. It is impossible to go into negative equity. Anyone opening a spread bet account is automatically a retail client unless they make the conscious decision to become a professional client, of which you need to meet stringent criteria.
Full Service & Advisory Stockbrokers
A full service stockbroker offers a variety of resources – this can be investment research, access to initial public offerings (IPOs) and equity raises (placings), and telephone dealing. Of course, fees with a full service broker are much higher than those with traditional discount online execution only brokers, and so it is worth making sure you are getting the benefit before routing all of your business through a full service broker.
They can also offer stock at a discount to the current market price in the form of a share placing. This is when a company raises cash for new equity, though very often the price often trades at or below the share placing. It is useful if we want to buy stock in size that we otherwise might not be able to buy at that price in the market.
However, most of these deals are poor and it is a case of saying no to many of them. For beginners, I would not recommend to sign up to an advisory stockbroker unless they specifically want access to equity raise deals and are comfortable with the risk.
Even though a stockbroker can be classed as 'advisory', they will still earn commission from any deal you take. It is always worth remembering that.
List of Stockbrokers
If you want to skip directly to what I have to say about a stockbroker, you can do so by clicking here:
Hargreaves Lansdown
IG Index
DeGiro
Spreadex
Killick & Co
eToro
Freetrade
Trading212
Hargreaves Lansdown
Hargreaves Lansdown, or HL as it is commonly known, is listed on the UK stock exchange in the FTSE 100 (EPIC: HL.), and therefore everyone is able to see the financial performance and health (solvency) of the company.

Hargreaves Lansdown was founded in 1981 by Peter Hargreaves and Stephen Lansdown, and having been listed since 2007 they are a trusted and established UK stockbroker.
Advantage Of Using Hargreaves Lansdown
Hargreaves Lansdown is able to offer fill or kill orders, and set up limit orders to both buy and sell. This means that one does not have to be at the desk in order to trade, as we can set the price and number of shares we wish to deal at. This can be helpful for swing traders and those who have a full time job.
As we can see, the HL ISA fees vary depending on whether we want to buy shares or funds.
For funds, if we have £250,000 invested then we will pay £1,125 per year in fees. Whilst the percentage goes down the more funds we have with HL this is (at least in my opinion) a lot.
For shares, the charges are capped at £45 a year which is much more reasonable. I understand this to mean it is £45 for all shares rather than per share as if it was the latter then HL would surely need to specify this as to not be misleading.
If If you want to open a Stocks and Shares ISA with HL, you can do so here. This is an affiliate link, and I will receive a small commission if you open an account. If you'd rather I didn't and let HL make more money, then simply Google Hargreaves Lansdown and open an account from there.
IG Index
IG Index is the other big online broker in the UK that I use. They, like HL, are also listed on the UK stock exchange. IG does not offer fill or kill limit orders on market maker only stocks (stocks that are not traded on the SETS-qx trading platform).
IG offers access to trade SETS stocks as we can place our trades directly onto the order book with direct market access. For frequent traders, that means we can deal up to £9,999 worth of stock for £5, though this does not include Stamp Duty (payable on all Main Market listed shares).
IG's fees are also reasonable.
For investors who do not deal more than three times a quarter, then a £24 quarterly fee will apply which is £98 per year. There is no mention on charges for funds.
Although I am a Premium Client of IG Index, and have an ISA, spread bet, and CFD account with them, I opted not to become an IG affiliate. This is because they have stringent measures on what can and can't be published, and would only allow me to post facts rather than my own opinion. I believe the value of this website lies in me being able to speak freely and so I declined their invitation.
I respect that as it shows professionalism in ensuring responsible promotion and affiliation (which is what I want in a broker that I have significant funds in) and so whilst I recommend IG Index over HL for active traders I do not get paid a commission for doing so.
IG's spread bet platform
First of all, I will repeat that I do recommend anybody who has not traded consistently profitably for more than a year to stay away from spread betting and leveraged accounts.
However, IG has a great spread bet platform as all bets are executed instantly or rejected. There is never any waiting as to whether or not you will be filled.

I always call and anyone who uses IG's spread bet service should also call because the executed price can be improved for us
L2 Dealer
IG also offers a software program which allows us to deal and execute in a more effective manner. It takes some getting used to, and their manual is outdated (it does not include how to execute parent and wave orders, as well as other things), but in recent market volatility IG's web dealing service was sometimes down but L2 Dealer was not. It is more reliable than the web-based platform.
L2 dealer is also great for CFDs but most people should not be touching CFDs. A CFD is a Contract For Difference, which is similar to a spread bet, only CFDs are taxable and not exempt from tax like spread betting. CFDs allow us to get inside the spread and place orders with direct market access (whereas spread betting does not) and so I use CFDs for intraday scalping. CFDs are also leveraged, and definitely not for beginning traders.
DeGiro
I had the pleasure of attending the Financial Times & Investors Chronicle Investment and Wealth Management Awards in 2019 and was surprised to see DeGiro win the "Best low cost stockbroker" category. I stopped using DeGiro in 2016, because they lured me in with "cheap commissions" which ultimately proved to be not that cheap.
Here is how DeGiro shows their fees.

If we take into account only the fees, then it is undeniable that DeGiro are the cheapest out of the competitors listed.
However, we also need to take into account execution. This may have changed since I was a client, but DeGiro did not work to get prices inside the bid-ask spread in 2016. They saved on this fee and passed the savings onto the client. Whilst this is not an issue if we are buying FTSE 100 stocks are the spreads are so narrow anyway, it does become a problem if we are buying stocks with wider spreads.
The more shares we are buying the more the execution price matters, and very quickly it becomes worth paying more for a broker who will deal for you inside the spread and pay a higher commission.
Execution Example
For example, if we are buying 1,000 shares in a stock with a spread of 100p-106p, and because DeGiro doesn't deal inside the spread we will pay 106p for this. The total we pay is £1,060 plus commission. It is unclear exactly how DeGiro's commission fees work looking at the above – but let's assume we pay 0p in commission and the trade is free of charge.
If we try to execute the trade on another broker, and they can get us 105p for 1,000 shares, we only pay £1,050. If the dealing fee is less than £10 then we are better off using the second broker. This problem becomes worse the more shares we buy.
I once bought £500 worth of shares in a stock that had a 20% spread when I was starting out. My £500 instantly became £400 because DeGiro didn't deal inside the spread.
DeGiro Does Not Offer An ISA
Even if this has changed, it wouldn't matter to me. DeGiro does not offer an ISA capability.
That means zero money can be made tax-free, and we should be contributing as much as possible to our ISA allowance each year. DeGiro is an avoid from me.
Spreadex
Spreadex is a spread bet provider that offers financial spread betting, but also offers sports spread betting and sports fixed-odds betting which I have never looked at because I don't gamble.
Spreadex offers leverage on more stocks than IG's spread bet platform covers, however the platform can be a bit slow to react whereas IG's platform is executed instantly. I always call Spreadex directly to place a trade because it is then done instantly and also at a better price.
I have been a client of Spreadex since 2017 and would recommend them only if you have been trading profitably consistently for over a year. Spread betting is not for beginning traders and the reality is most people lose their money. If you are profitable, then you can open an account here. Again, this is an affiliate link, and I may receive a commission depending on several criteria on trading.
Killick & Co
Killick & Co was founded in 1989 by Paul Killick in an old pharmacy on Cadogan Street in Chelsea, and helped to bring investment opportunities to the masses. They are unusual in that they are very client facing and have offices across London, and offer full services such as SIPPs, ISAs, and various advisory services.

I have an advisory account with Killick but use them for their telephone dealing service. They always answer the phone within a couple of rings, I relay my order, then my broker ensures it gets done and calls me about the fill. Phone dealing is expensive but in SETSqx stocks it is a great advantage, as detailed in my book How To Make Six Figures In Stocks.
Whilst I only have good things to say about Killick, for beginning traders and investors with smaller portfolios it is likely an online Execution Only broker is more suitable due to the difference in fees.
eToro
eToro is a "social trading" broker that markets itself as being "commission-free". In my opinion, this is misleading because whilst they are correct that clients do not pay any form of commission, all of the positions eToro's clients take are in the form of a CFD where overnight interest charges apply.
I do not know what eToro's spreads are like but I checked them out in 2018 and they did not have direct market access.
CopyTrading
The firm has a "CopyTrading" feature whereby the eToro trading platform allows clients to follow other clients and anyone following another will see the leader's traders mirrored on their own accounts.
This appears to be the main sell of the broker as eToro runs a Popular Investor program. This is where Popular Investors who rise through the ranks can earn fixed income paymets based on the minimum average equity of accounts following them and a minimum level of AUM (assets under management).
eToro For Trading
eToro does not have a wide range of stocks and only deals in the most liquid of stocks. FTSE 100 stocks are included but many of the FTSE 250 were not. Whilst this could have changed since, I do not take this broker seriously and I believe it's mainly for beginners who want to copy some successful traders or have a punt on the markets. There's nothing wrong with that if that's what people want to do, but I don't see any reason to use this broker unless I suddenly wanted to trade FTSE 100 stocks, and even then I would be limited as eToro does not offer parent and wave orders.
Freetrade
Freetrade was founded in 2015 and is a commission-free UK stockbroker which does offer an ISA for the charge of £3 per month.
That doesn't sound so bad, right? What's the catch?
The catch is that commission-free trades only execute at the end of the day. You have to laugh really, because of course the price could change so much at the end of the day for the worse that it might've been better to just use pay up and sell.
Unless you can predict the future, or you'd rather gamble on the price moving against you for the sake of a small commission for instant dealing, then end of day execution is just a joke.
In fairness, the company does offer instant execution (that you have to pay for), but then I personally find the "free trades" misleading as it's a bit like offering a free car only to be told it has no wheels when you sign up.
Freetrade says it operates under the FCA's CASS rules, which means your money will be safe in the event of the company going bust. The company has been offering a "free share" deal which has seen many people sign up and spam their links across the internet.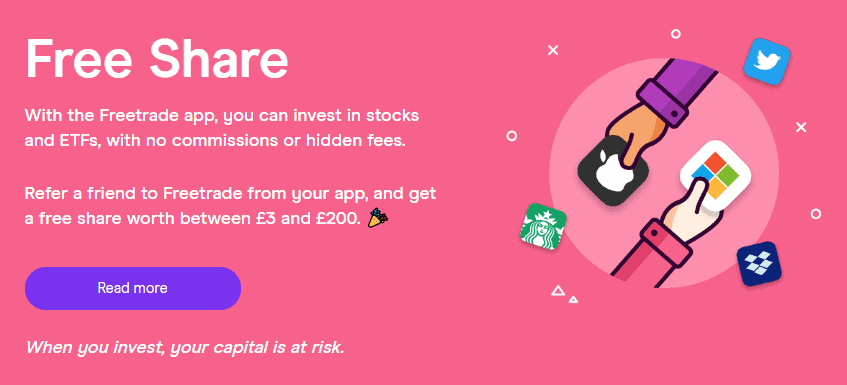 I personally can't see any attraction for this broker, as anyone who has a position of over £250 should be using instant execution, and anyone relying on commission free trading is essentially gambling that the price will be around the level they want to sell.
That's not to say they won't become valuable in the future, but for now Freetrade is not sophisticated enough for anyone serious. But maybe that's not their market.
Trading212
I don't know much about Trading212, apart from that I am sick of people joining my Facebook group trying to spam referral links like the Freetrade one.
Here are Trading212's fees: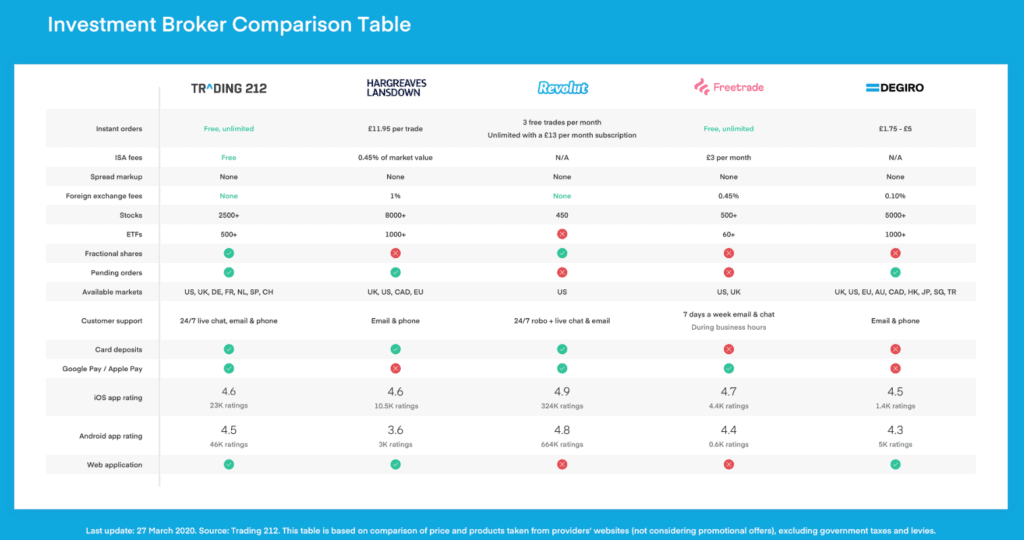 Again, it claims trading is "free". I don't know if Trading212 has a catch, but it does offer a CFD account which with overnight fees is a way more lucrative business than share dealing.
CFDs are leveraged products and not for beginners. Trading212 also offers "fractional shares", which is a fraction of a share, which is not possible to do on the exchange, therefore it makes Trading212 a bucket shop. And I don't keep my money in bucket shops.
Here is what Trading212 has to say about protection of your funds.
Like Freetrade, I can't see any attraction to this broker. I wouldn't ever sign up to it. My experience has been that going for 'cheap' usually has a trade-off cost elsewhere.
I pay £50 per trade with one of my brokers and it's worth it when I need it. Trying to scrimp on a few pennies on execution would cost me a lot more.
Conclusion
We have covered many of the main and most well-known brokers in this article.
Of these brokers, I use IG Index, Hargreaves Lansdown, Spreadex, and Killick & Co.
Hope this has helped! Choosing your stockbroker/s is an important part of your trading and investing journey so do take the time to review all information in detail and what it means for you.