Many traders don't know which broker to choose when starting out. There is lots of information, but most reviews only have a little detail. This means that traders are left in the dark when choosing a broker for either share dealing, spread betting, or trading CFDs.
In this IG trading review, I will cover everything that IG Index offers, including share dealing accounts, ISAs, and IG's smart portfolio offering.
IG review summary
IG Index offers a web trading platform that is user friendly and customisable. They also provide many educational tools for new traders and investors including demo accounts.
IG's trading fees are relatively competitive in its share dealing and ISA accounts. IG is the largest stockbroker and CFD provider in the UK, so they have a broad range of financial markets to trade both in spread bets and CFDs.
What does IG Index do?
IG Index is a global business that allows traders and investors to buy and sell securities across a wide range of financial markets. IG Markets Ltd is owned by IG Group plc, which is listed on the London Stock Exchange with the EPIC IGG.
The group also operates in other European countries such as Germany and Italy, as well as South Africa, and now in the US with its acquisition of tastytrade.
In the UK, IG is an online stockbroker with a trading platform that can be used to buy in share dealing and ISA accounts. They also offer spread betting and the trading of CFDs. However, IG also offers Smart Portfolios, as well as demo accounts.
IG is regulated by the FCA (Financial Conduct Authority) in the UK and your money is protected by the UK FSCS or Financial Services Compensation Scheme against fraud or failure to a value of £85,000 per client, so I believe it is a safe stockbroker to hold assets on account. Regulation is something that offers protection and you should always check that any broker you sign up with is regulated by the FCA.
What products do IG Index offer?
IG is a well-rounded online stockbroker and spread bet/CFD provider. It offers a variety of products that we'll cover in more detail below.
Share dealing review
IG offers a share dealing account. This is an account that can be opened where we can buy and sell shares. IG makes a market in many shares across the globe, including both London Stock Exchange, the American markets (Dow Jones, Nasdaq), as well as other European and Asian exchanges.
You can also get exposure to other asset classes such as property and commodities through buying specific ETFs.
I use IG as my main online execution broker because it offers Direct Market Access. IG is the only stockbroker in the UK to offer this in a share dealing account.
There is a minimum deposit of £250 and no limits on withdrawals.
What is Direct Market Access?
Direct Market Access is the ability to place your trades directly onto the order book. This means that we can become market makers in a stock by offering liquidity at a certain price and size to the market.
For example, let's say a stock is bid 21p to 22p. We might decide we want to buy at 20p and so we can put in our size and order at 20p, then we leave our order working throughout the day.
This can result in better prices and execution as typically market makers will sell stock to us close to the asking price, whereas with DMA it is possible to buy at the bid and sell at the ask.
Direct Market Access is a great tool to have and is necessary for any traders who deal on the London Stock Exchange's SETS platform.
Stocks and shares ISA review
IG also offers a Stocks & Shares ISA. An ISA is an Individual Savings Account. We can put up to £20,000 per year into an ISA to make use of its tax-free wrapper. All profits made within this account are exempt from Capital Gains Tax.
Like the share dealing account, IG's ISA is the only ISA in the UK that offers its clients Direct Market Access.
Spread betting review
IG also offers a robust spread betting platform. Spread betting is a financial derivative where we can bet on securities rising or falling in price. I use IG's spread betting platform as my main spread bet provider because it offers the most amount of stocks with the tightest spreads.
Here is a screenshot from IG's spread betting platform along with some typical products that can be traded.
You can see that we can instantly search for a product to trade by entering text or code.
For example, if you wanted to trade Vodafone then you would either type in 'Vodafone' or the stock's EPIC code 'VOD'.
This would then bring up a Vodafone dealing ticket.
When choosing a spread bet provider you should look into whether or not the provider profits from you losing.
IG doesn't care if I make money or lose money with them because IG hedges my positions in the market. They are balancing my positions out.
However, other spread bet providers make money on client losses. They take the other side of their clients' trades knowing most traders lose money trading these products. This is why many spread bet providers will offer lucrative affiliate payments so they can find more losing traders to make money from.
These tactics are popular with people who trade forex because of the low margin requirement and little capital needed to trade currencies such as USD and EUR.
For those that do trade forex, IG offers its MT4 platform. I haven't used this so can't offer an opinion.
CFD trading review
IG also offers the ability to trade CFDs. I use IG as my main CFD provider because it offers the best range of stocks and also Direct Market Access.
You can trade CFDs either on IG's web platform or on its L2 Dealer platform which we'll cover later on in this review.
CFDs are complex instruments that have margin requirements. You can learn how to trade these in IG's demo account (covered later).
IG also offers educational resources such as webinars through the IG Academy.
Smart portfolio review
IG offers what it calls 'Smart Portfolios' which are expertly managed and broadly diversified portfolios. These portfolios have exposure to various financial markets including both equities and fixed income in the form of bonds, as well as other alternative investments such as gold and property.
These portfolios are designed to suit your risk appetite which IG finds by asking a few questions about your situation and needs.
IG's Smart Portfolios are created using iShares ETFs from BlackRock. BlackRock is the world's largest asset manager and boasts over $6 trillion in assets under management.
The Smart Portfolios were launched in February 2017 and so they now have a four year track record, which can be seen below.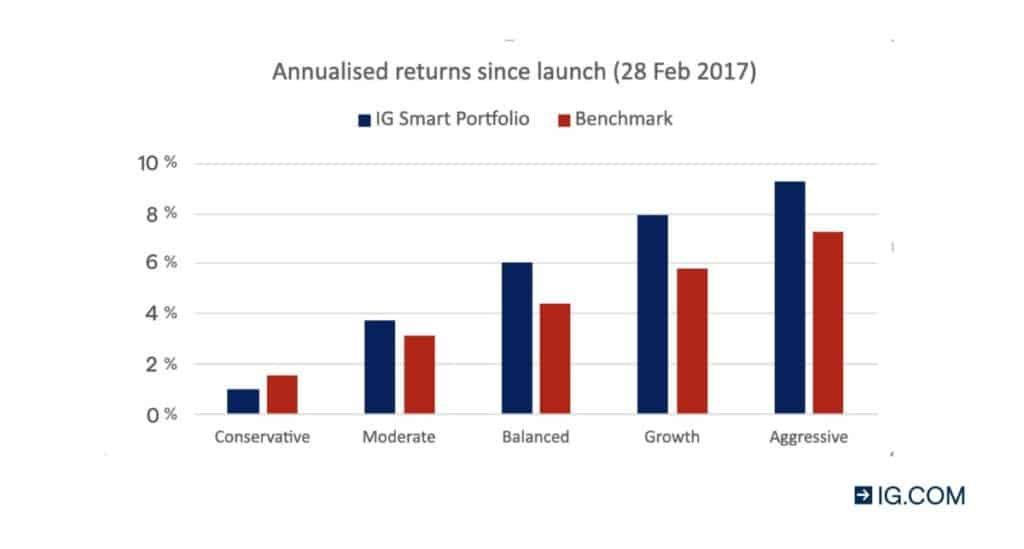 I don't use IG's Smart Portfolios because I manage my own money on a full-time basis trading and investing in the UK stock market.
But I can see the appeal of these, and the fees are on the low side. Wealth management is often an expensive investment but the total annual cost of an IG Smart Portfolio is 0.72%, and free of charge if your portfolio exceeds £50,000.
SIPP review
IG previously offered SIPP (Self Invested Pension Plan) accounts but it's website currently states that IG isn't able to take on any new SIPP applications.
IG says that they do hope to be able to offer this soon and are working on contracting through another provider.
L2 Dealer review
L2 Dealer is IG's downloadable dealing platform.
It's a little dated, but in 2020, L2 Dealer stayed functioning in the market volatility whereas many brokers went down.
This meant that whilst other people were complaining about not being able to buy and sell – I continued trading throughout the day as the markets were moving.
Here is the user interface for IG's L2 Dealer.
It sits as a strip on your monitor and from there you can open dealing tickets, see a list of trades, input stops and limits, and view working orders.
Let's say we want to buy Royal Dutch Shell (RDSB).
We type in "RDSB" in the search bar as below.
We then press enter, and a Royal Dutch Shell dealing ticket pops up.
We then have the option of dealing DMA (Direct Market Access), through the RSP network (Retail Service Provider), or by dealing OTC (Over The Counter).
IG's L2 Dealer offers great versatility of orders, as we can use limit orders, stop limit orders, icebergs, parent and child (or parent and wave) orders.
For this reason, it's my favourite dealing platform.
Yes, there are lots of things that could be improved. But for UK based traders this is a great platform to use when dealing in shares or CFDs.
Demo account review
IG offers a demo account for new traders.
This is useful because it allows everyone to get to grips with the web platform and understand how to use it effectively.
Here's a screenshot of IG's demo platform.
It clearly says "DEMO" at the top and it's also grey rather than black which distinuishes it from the live platform.
The demo platform does everything the live platform does except uses demo money instead of real capital.
What are IG's fees?
For IG's share dealing and Stocks & Shares ISA accounts, the fees for dealing are £8 but this becomes £3 for regular dealers.
There is also a £24 custody fee which is removed for those who deal twice per quarter.
For IG's leveraged products, these fees changed on Monday 30 November 2020.

For FTSE 350 UK shares, the commission remained at 0.1%.
However, for non-FTSE 350 UK shares these rates changed as we can see above.
There are no inactivity fees across any accounts unlike other brokers.
What is IG's leverage?
IG allows traders to use leverage when trading leveraged products such as CFDs and spread bets.
Traders only need to put down a certain amount of capital as collateral, or 'margin', for an entire position. This makes it attractive for profitable traders who can make their capital go go further.
These levels follow the European Securities & Markets Authority (ESMA) regulations introduced in 2018:
Stocks = 1:5
Commodities (excluding Gold): 1:10
Major indices, Gold, and minor currencies 1:20
Major currencies: 1:30
For example, if you wanted a position in Vodafone with exposure of £20,000, you would need to put down £4,000 as margin because this is 1:5. However, some stocks may need more margin. These levels are just the minimum required.
For Professional traders (those who hold €500,000 in liquid assets and have completed 20 trades of £10,000 over the last four quarters), there is the option to access greater leverage and other benefits. However, this means you forego some retail protections as you are classed as a Professional. You must make your own decision on whether this change in status is right for you.
I am a Professional trader with IG because I have better margin requirements as well as access to restricted stocks that would be otherwise unavailable to trade.
How is IG's trading platform?
IG's web trading desktop platform is easy to use. I've been using it for over seven years now and rarely had problems with it.
How is the mobile trading app?
Traders shouldn't be reliant on their mobile apps to trade.
It looks good on Instagram trading from the beach, but this isn't real and often something scammers do to convince you of the 'trading lifestyle' so you sign up to their affiliate broker.
However, if you're out and about and need to keep a track of your trades or move stops/limits, IG's app is perfectly fine.
It has all the features the web platform has and acts as a functional alternative if you're away from your screens.
The app can be used both of iOS and Android.
How I use the IG trading platform
One of the great features about IG's trading platform is the ability to set price alerts.
You can do this by clicking the down arrow on a security and then clicking "Set Price Alert".
When you've done this, the price alert should show itself like below.
You can set an alert based on the stock having a higher buy price or a lower sell price. This can be used for setting an alert to buy if the stock breaks out or by tracking your sell price and then executing the trade when you get the alert.
Being able to use price alerts in this way means you can keep track of stocks without needing to monitor the price on a daily basis.
Should you use IG Index for trading?
IG is a great all-round online trading platform.
It offers a big range of stocks to trade across global markets and is beginner-friendly.
Personally, I believe that anyone wanting to trade UK stocks would be best-suited trading with an IG trading account.
This is because it offers Direct Market Access as well as the RSP network, and it offers the biggest range of securities to deal on leveraged products such as spread bet and CFDs in the UK.
The fees are also competitive (they don't offer 'free' dealing but the cost of these commission-free brokers often shows itself elsewhere) and become cheap at £3 if you're a frequent dealer.
I use IG for almost all of my online execution for these reasons.
Create your free IG Index account