SharePad or ShareScope? I've reviewed both.
Read my ShareScope review to compare
My SharePad review will show you how you can use it to improve your returns by finding all the data you need in one place and save you lots of time and effort in the process.
If you make it until the end and like what you see, I have an exclusive offer from SharePad that you will want to take advantage of.
Want the offer now? Skip to the end of the article.
SharePad review: What SharePad does
SharePad is a browser-based investment management platform that offers a huge suite of analytical tools as well as extensive technical analysis features.
It is a powerful investment software that allows complete management of your portfolio and stock screening.
SharePad includes all UK stocks, US and European stocks, as well as global market indices, commodities, bonds, forex, and cryptocurrencies.
It can be used on both Windows and Apple products, as well as tablets and mobile phones. At the end of this review, there is an offer to take a risk-free trial.
This is an in-depth guide of what SharePad does and how you can use it to make more money.
All investment data under one platform
Firstly, the best advantage SharePad offers is that there is no need to go anywhere else because all the investment data is in one place.
This saves time and effort and makes it easier to get the information you need right away.
For example, we can see a summary and profile of the stock here.
And if we want to view the company's financial statements such as the balance sheet or the income statement, we just click the tabs and the data loads up instantly.
SharePad allows for extensive business analysis because the data is easy to view.
To find out the latest news information on the stock that has come through the RNS service, we can click News instead of going onto another website.
And if we want to compare recent news for a stock in the same sector or in the same list, instead of repeating a manual process we can just click the stock or search and the information can be viewed.
This is the same for all other external searches: AIM Rule 26 for major shareholders on the register, the half-year or annual report for the financial statements, and no need to search through RNS announcements manually for director dealings either as we can just click "DD".
This brings up all the recent director dealings in the stock.
SharePad allows you to instantly get the investment information you want in a quick and accessible manner.
Advanced technical analysis software
This is where SharePad is unrivalled.
Charting is necessary for any trader and this is where SharePad's charting software pays for itself.
It is worth it for investors too, because both traders and investors want to make money and technical analysis helps us to do that.
Technical analysis indicators such as moving averages, Bollinger bands, and Fibonacci retracements can all be added.
Below is one of my charts, which is very basic, but full customisation is possible here.
SharePad saves all annotations and notes, and I like to draw support lines and zones on my charts for future reference. SharePad saves all the information I put in automatically and so I don't need to worry about losing any data.
The ease of use means I can view all my charts in one accessible place, and I can switch from chart to chart with a single click.
SharePad also offers the ability to filter stocks based on many indicators. For example, I run my filters daily in order to identify new trading opportunities.
I search for 52-week highs, all-time highs, and for higher than average volume over a certain period.
My filters are already uploaded into the filter library for you to use, but you can create your own for your own preferences.
These filters show me stocks that are trending and from there I can drill down into how and where I want to trade them.
Very often, a trending stock will have a reason for that trend, and filtering in this manner can identify some real gems for momentum traders and investors.
My filters identify stocks such as Future Group plc, which by the start of 2020 had delivered over a 300% return since the beginning of 2018.
I like to buy stocks that are moving upwards where very few people are aware of it, and SharePad's data gives me the opportunity to spot these stocks first.
SharePad's filtering software scans all available data and brings up the profiles of stocks that you want to find in order to increase your own returns.
Portfolio and investment management
Another advantage of SharePad is that we can add stocks to a watchlist or a portfolio.
By doing so, we can keep tabs on either our holdings or positions or stocks we're watching because we want to place a trade or invest.
It's very easy to flick through these charts because we can set our charts up how we want, with various moving averages and indicators, and then press the space bar in order to move to the next stock in the list.
This allows us to cover a lot more ground much quicker.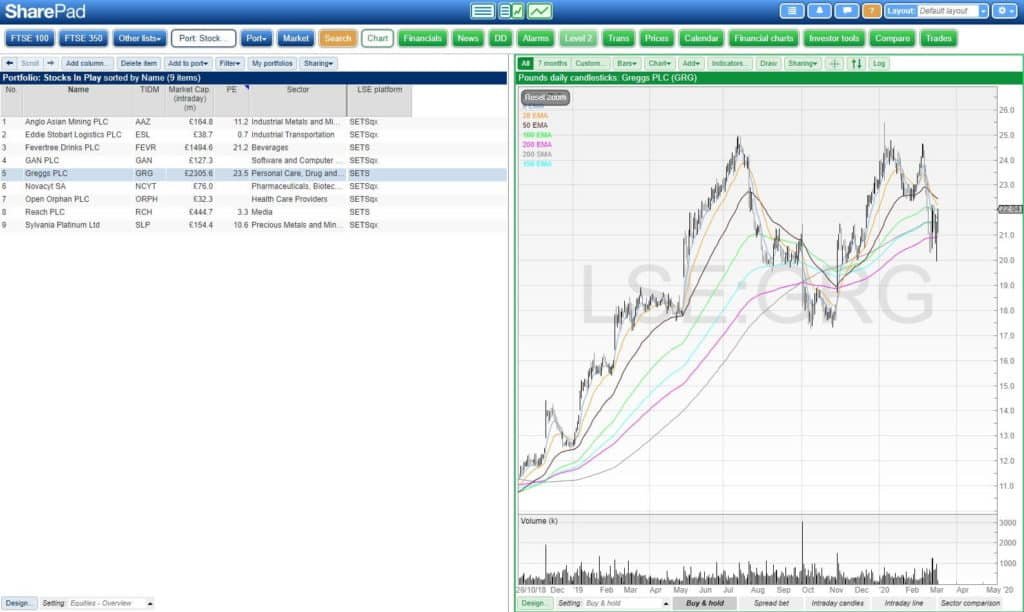 Having the ability to view all the information you need makes doing the business of portfolio management efficient and time-saving.
Level 2 gives users an information advantage
SharePad Pro offers the best Level 2 service in the UK (apart from ShareScope, the upgraded product from SharePad, where a review will follow shortly).
This is because SharePad offers a multi-window layout on Level 2, meaning that if you're watching several stocks on the open you can keep track of them without having to switch windows.
This layout will mean you don't forget a stock and miss out on a trade!
This is unique to SharePad and it offers an information advantage against other market participants.
Being able to see where the market makers are positioning themselves helps to make trading decisions as we can see the price in real-time.
We can see where market makers are moving from and in what size – crucial information if we need to get in or out of a SETSqx (market maker traded only) stock quickly.
SharePad's Level 2 lets us see the entire SETS orderbook. This means we can place our trades directly onto the market knowing what the market looks like in real-time.
Being able to view this information means I am able to get much better prices when buying and selling shares and enhances my stock market returns.
SharePad's Level 2 is reliable and I have never experienced an outage.
This matters, because regardless of your calculated position size, you need to be able to depend on your Level 2 provider and see the market trades and prints otherwise you're trading blind.
Alerts and alarms for portfolio management
SharePad has the ability to set alarms that inform us of any sudden or unexpected price movements that have an effect on our investments.
This includes news stories, price increases or falls, directors selling shares and so on.
To do this, we either select a share from the list on our left or search for a specific stock and click Alarms.
When our set alarm goes off, we'll receive an alert.
We can edit the alarms by clicking on the alarm, and a drop-down box will appear allowing us to change the values for our own preference.
The advantage here is that we will be notified instantly wherever we are via an email alert, and if we need to buy or sell you can get onto our broker straightaway.
SharePad also offers alarmed lines, which we can draw on the chart.
Here is a line I've drawn on Sylvania Platinum:
When the price goes through the alarmed line, I'll receive an email alert.
This is great because I want to be notified when the stock is coming up towards its previous high and by setting the alarm I don't need to constantly track the stock on a daily basis.
Automating this alarm saves me time and is one less thing I need to think about, allowing me to focus on more important tasks.
By using SharePad's alerts and alarms service there is no need to constantly check your portfolio as you will be notified of anything important.
Wrapping it up
You made it! How are you feeling? It's a long review, but now you know why SharePad can offer you the tools you need in order to achieve much better returns (and save time).
Ultimately, you're going to have more clarity over your investments, which will have a real-life impact on your portfolio and trading account.
Need more information? I recorded a lengthy webinar, walking you through how I use SharePad. You can watch this below:
Claim your SharePad offer
I have arranged an exclusive offer for my readers, allowing you to try out SharePad with a risk-free 30-day money-back guarantee and 1-month of free data when you join (worth up to £69).
Frequently asked questions (FAQs)
What is SharePad used for?
SharePad is a powerful investment management tool that can carry out heavy fundamental analysis with ease, and allow one to filter for stocks on a technical basis.
You can also use SharePad to track your portfolio and trades and to keep tabs on stocks with alerts and watchlists.
SharePad also offers a solid Level 2 service which is useful for those who want to get better prices on their entries, used by both traders and investors who want to maximise their returns.
It's great for people who're busy with work or kids or people who want to cover more ground with the time they have.
Is SharePad suitable for me?
SharePad is suitable for:
Anyone who wants to improve their returns in the stock market and make more money
People who want all their information in one place
People that want a powerful charting package in order to filter and chart stocks in both end-of-day and in real-time
Busy people that want to get more done in less time
Anyone that wants an advantage and an edge in the stock market
Is there a free SharePad trial available?
Yes, if you've not subscribed before there is a 30-day money-back guarantee so no risk to you if you cancel. You can also get your second month completely free on me if you use my link.
How much is SharePad per month?
SharePad is £30 per month or £324 for the year, but it will earn you that back in just one good trade or avoiding a bad investment decision.
SharePad Pro is £69 per month or £745 for the year which includes Live prices, news, and alerts. It also includes LSE Level 2 data.
How do I cancel my SharePad subscription?
You can call the SharePad team on 020 7749 8502 in order to cancel. Your monthly subscription will be cancelled immediately and annual subscriptions cancelled on the renewal date.
SharePad vs ShareScope
SharePad differs from ShareScope in that SharePad is browser-based whereas ShareScope is a software program that is downloadable and runs on your Windows computer.

ShareScope is a trading terminal that is used by many of the UK's market makers, brokers, and funds.

I use ShareScope for my intraday trading and can also offer you a risk-free trial (read my ShareScope review).
SharePad vs Stockopedia
Many people ask which product is the best but in my opinion these are two different products.
Stockopedia has an algorithm which produces StockRanks – a number which is based on the quality, value, and momentum of a stock.
It also has the Small Cap Value Report where Paul Scott and Jack Brumby offer excellent insights into UK stocks.
However, I don't pay attention to StockRanks. Stockopedia also doesn't allow for the same level of customised filtering as SharePad, and so if I had to pick one I would pick SharePad.

I'm a subscriber to both products: SharePad for research and analysis, and Stockopedia for editorial.
Full transparency
In the interest of transparency, I have a commercial relationship with SharePad. In October 2019 I was invited to join SharePad's editorial team to provide trading content.
I have used SharePad since early 2017 for the reasons as stated above. Alongside ShareScope, I couldn't trade without it.
If you haven't already, download my free breakout and short selling guide available for my subscribers below.