All traders want the best trading software and tools for the job. The problem is there are many tools and software products, all making bold claims and promises.
Unfortunately, many of these claims fall short of reality.
This article will look at the best trading software and tools that I use daily to trade the UK stock market full-time.
The best trading software and tools in 2022
SharePad Pro
Best for retail traders and part-time traders
SharePad Pro is the live version of Ionic Information's SharePad product.
Some of its features include:
Level 2
Live prices and intraday charts
Ability to filter for technical setups and fundamentals
Includes all available information on the stock in one place
Single page feature summarising the stock
Level 2 shows the stock's order book. It shows traders the full market depth and offers them the opportunity to place trades to buy and sell at more competitive prices.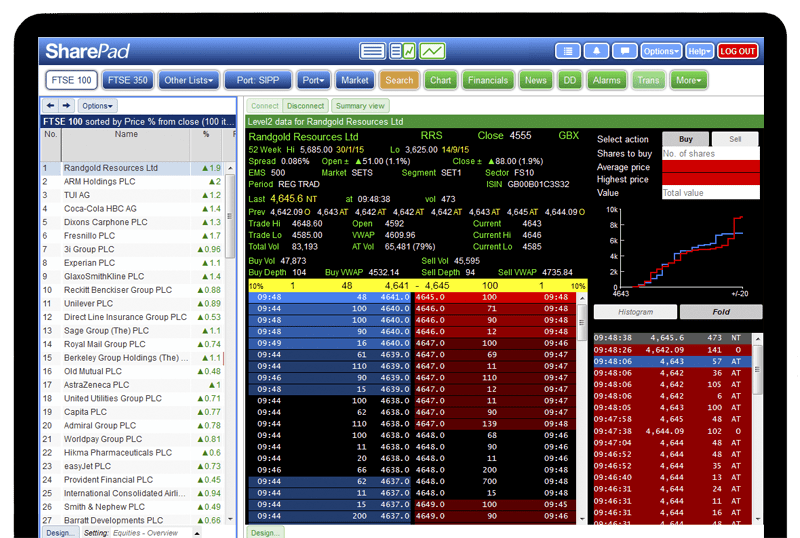 I have written an in-depth walkthrough of Level 2 here.
As well as Level 2, we can see intraday charts and prices, so we can track our stocks throughout the day if we want to do so.
The filtering system on SharePad Pro is effective in drilling down for specific setups and stocks.
I find my own stocks to trade independently, and this product gives me the tools I need. Most traders follow the herd and buy what they hear about on social media and bulletin boards rather than forging their own path. This is also why most traders don't make any money.
Another feature of SharePad is that it offers all available information on the stock on a single summary page. This means the basic information including the market cap, basic valuation rations, share price chart, and financial statements are all in one place.
This feature saves time because rather than going to several sources to get all of this information, I can find the stock on SharePad and press the Enter key to load up the page, and pressing Enter again removes the single page summary.
A quick scan of this page tells me:
The market cap and the stock's enterprise value (and so the stock's debt)
Whether the price is trending upwards or downwards
Does the stock make money and on what revenues?
Scrolling down the single page summary offers more information.
We can also set alarmed lines and email alerts for stocks that hit a certain price level, meaning that you can be alerted to price movements on your stocks instantly.
This is a useful tool for those who work during the day and don't want to worry about their positions, and for when you go on holiday.
Setting email alarms for RNSs will also ensure you never miss a piece of news on your stocks both in the morning and for intraday news.
I've arranged with Ionic Information that you can take a risk-free trial and an extra free month on me for both SharePad and SharePad Pro.
IG's L2 Dealer
Best all-around stock broker
IG is one of the UK's largest online stockbrokers. It also offers CFD and spread bet trading, although these are leveraged products and one should exercise caution with these as most traders lose trading CFDs and spread bets.
L2 Dealer offers DMA (Direct Market Access). This means we can place our orders directly onto the order book and by using Level 2 we can work better entries and exits.
With L2 we can see the live price and some recent trades.
However, the main feature of L2 Dealer is that we have a wide range of orders from which to choose when buying and selling. This means we have greater control over our buys and sells.
We can use Limit orders, Market orders, Market on close orders, Iceberg orders, Stop market orders, and Stop limit orders in conjunction with the above timeframes.
Finally, another great feature about L2 Dealer is that we can set alerts as well as a dealing ticket to open when the price moves through a certain level.
This is especially useful if you definitely don't want to miss out on the price moving through a certain point as once it does there will be an alert (you can also include a sound) and a dealing ticket popping up instantly.
This means you can react faster because you save several seconds of searching for the stock and pulling up a ticket.
L2 Dealer is available for both IG's share dealing and ISA accounts, and a CFD account too. Need more information? You can read my full IG review here.
ShareScope Pro
Best for full-time traders and professional traders
ShareScope is the live version of Ionic Information's SharePad product.
Some of its features include:
Multi-window layout: ShareScope users can create their own layout on one screen
Multi-monitor functionality: ShareScope users who use more than one monitor can adapt their layouts to spread over multiple monitors
Interactive charting software: ShareScope has extensive historical charts that are available for users to annotate and filter
Level 2 orderbook: Pro users of ShareScope can view Level 2 windows in order to see the full orderbook and the market as it is live
ShareScript: Users can code scripts to run on ShareScope or ask a member of the ShareScope team to create a specific script
You can see all features on ShareScope's website.
The main advantage of ShareScope Pro over SharePad Pro is that it has multi-monitor capability.
This means you can customise the product to fit your own layout.
I have two ultrawide monitors and two portable screens for when I'm travelling, and I can customise ShareScope to fit both of these monitor layouts as I please.
This means that every day, whether I'm at home or travelling, when I load up ShareScope I have all of my Level 2 windows and intraday charts in the same place and on the same stocks that I left them on.
Another advantage of ShareScope Pro is that it is codable with ShareScript. You can build or request to have built certain features.
This offers more versatility than SharePad Pro and this is why the price for ShareScope is higher.
I use ShareScope Pro to run during the trading day. I have built proprietary scripts that give me an edge over the market in certain situations and I also use it to set intraday alerts and alarms.
For example, one use of ShareScope Pro is that it can be coded to notify me every time there is an unscheduled auction. This means that I will be able to pick up on potential moves early on as this notification means that the stock has traded outside of its Millennium threshold and triggered an auction.
I would not be able to trade without ShareScope Pro. The only alternative options are FactSet which comes in at around $12,000 per year and Bloomberg at $24,000.
However, these come with lots more data on bonds that as an equities trader I don't require. So at £120 per month ShareScope Pro is a steal.
If you'd like to give ShareScope a risk-free trial you can click the button below…
Conclusion
In trading (like most things in life), you get what you pay for. There are many free services and products out there that are certainly worth trying if you are new to trading, but these products allow me to trade with my eyes open and a good mix of order versatility.
Disclosure: There are referral links for SharePad, IG, and ShareScope included in this article. These are either better deals as a result or come at no extra cost. I use these products and services myself.